Ready to ride into the mysterious, romantic and often dangerous New West? My Pepper Kane Mysteries will take you on that journey!
New! In From the Cold (2019) – A Novella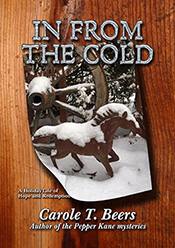 A Holiday Tale of Hope and Redemption
Jack Pennington has a heart as big as Oregon's Rogue Valley, where he's delivered agricultural equipment and taken in foster children for years. Stalled in his marriage, dreading retirement, and making his final runs over the pass to Klamath Basin, he sees an old, abandoned horse that won't make it through the coming blizzard. Carly Brown's life with druggie parents changed for the better when she joined Daddy Jack's family, and then had a baby with her fiancé. It crashed again when her partner assaulted her, and the baby had special needs. Now her struggles to make a better life for her and her son also seem doomed to fail. As Christmas draws near, can a despairing old man and struggling young mother find a way through cold prospects to a warmer, brighter future?
New! Shadow on the River (2019)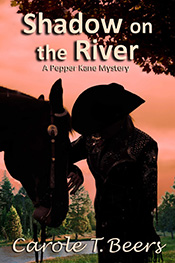 Spirited ex-reporter Pepper Kane and her business partner, cowgirl poet Tulip Clemmons, have poured their life savings into The Best Little Bed, Barn & Breakfast in Oregon. Things look rosy until the hot new wrangler is murdered in a horse stall. Guests fear for their lives and the two friends fear for their future. The fright factor ratchets up when a pretty female guest turns up dead and police put the ranch on lockdown.
Pepper and Tulip have faced perils and betrayals before. But none this close to home. Pepper also must deal with crises involving her aging parents and her Lakota-cop partner. With everything on the line and her back to the wall, can she prevail?
Discover the whole Pepper Kane series on the Books page!
"Well-written, snappy dialogue draws the reader forward. The action keeps one turning pages."
—Carol Crigger, WWA Spur Award winning-author, on Night Rides
"This is an author who needs to be recognized for her versatility, wit and skill."
—Anne Schroeder, former president, Women Writing the West
"A fast-paced, witty, engaging mystery… the real fun is the characters and the setting. Saddle Tramps does a nice job of explaining the world of horse shows and evoking scenic southern Oregon…"
—William Dietrich, Pulitzer Prize winner and New York Times best-selling author
"Carole Beers taps into her long experience as a horsewoman for Saddle Tramps, a spirited tale."
—Adam Woog, Seattle Times
"If you've ever been curious about the word of high-stakes horse shows, Saddle Tramps is the book for you. The wisecracking sleuth and owner of the Best Little Horsehouse in Oregon, Pepper Kane, tracks down the killer of the show horse Dark Vader. It's a thoroughly modern western set in Oregon."
—Ed Battistella, Literary Ashland
"I just finished reading it and I loved it. Clever, smart, suspenseful, it's got everything. Pepper is a pistol."
—Cynthia Charat, Joy Luck Book Club
"A page-turning thrill-fest."
—Alahnna Castro, Paint Horse Journal