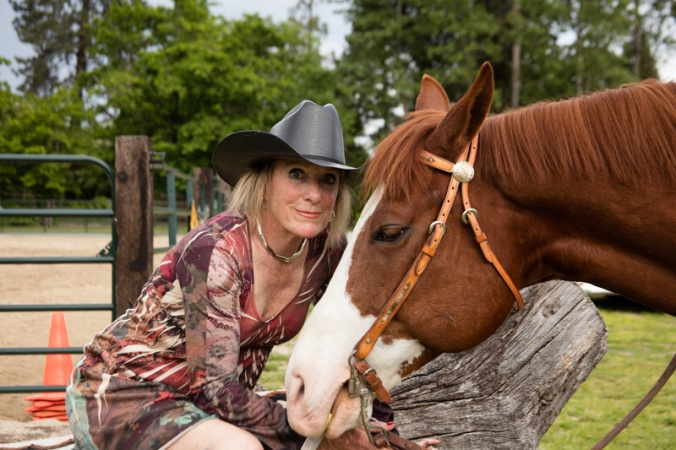 Born in Portland, Ore., to descendants of Oregon Trail pioneers, I fell in love with writing as soon as I could read, and with horses as soon as I could ride. I wrote my first stories — and illustrated them — at age seven. I got my first horse as well as my first author autograph at eleven, setting the dream in motion.
My first published writing appeared as "Letters from London" in The Grants Pass (Oregon) Daily Courier in 1963. I'd spent part of my college freshman year there with a Peace Corps relative, The Experiment in International Living.
After earning a B.A. in Journalism at University of Washington, I taught writing at a private school, wrote for romance and horse magazines and worked for 32 years as a reporter and dance critic for the Pulitzer Prize-winning Seattle Times newspaper. I wrote 7,000 stories for the Seattle Times, and several of my pieces won awards. I interviewed celebrities such as Katharine Hepburn, John Wayne, B.B. King, Rudolph Nureyev, and even covered The Queen! I became The Times' Dance Critic in 1974 after studying dance criticism at Mills College under a National Endowment for the Arts Fellowship. Reviews, news accounts and profile obituaries written in the digital age may be read on the Web by typing key words "Carole Beers Seattle Times." Be diligent — some are listed several screens back!
Along the way I competed on a women's shooting team. It was a blast to earn a Sharpshooter rating. I also flew planes, designed clothing and dabbled in PR.
I now enjoy writing fast mystery and adventure books and stories for adults and teens. Currently I am caught up in the "Granny Oakley Mysteries" featuring a modern, 80-year old shirttail relative of Annie Oakley who takes up trick-shooting to help save her daughter's guest ranch. This zippy yet warm cozy is a spinoff of my Pepper Kane Mysteries, starring a sassy ex-reporter who shows horses, solves crimes and romances her man. Coming later this summer: Granny Storms the Beach, Granny Oakley Mysteries book 2.
Due out in March through Black Rose Writing of Texas is Fire Girl, a 90K word romantic suspense about a female fire marshal of Lakota heritage with PTSD and a Down child. She battles a cannabis-farm arsonist and killer aiming to rid Rogue Valley of illegal crops—and her!
In the pipeline: Blood Rider, about a horse-loving teen and her circuit-riding minister 3X grandpa—each tracking similar killers a century apart. My 3X grandpa was a circuit-riding minister in Iowa in the1800s.
My 16,000-word novella, The Stone Horse, was inspired by Zuni carvings of spirit animals. Years ago I mentored Indian youth, sang on an Indian drum and danced in pow-wows with my Lakota, Cree and Northwest Coast friends. I still hold these friendships dear to my heart.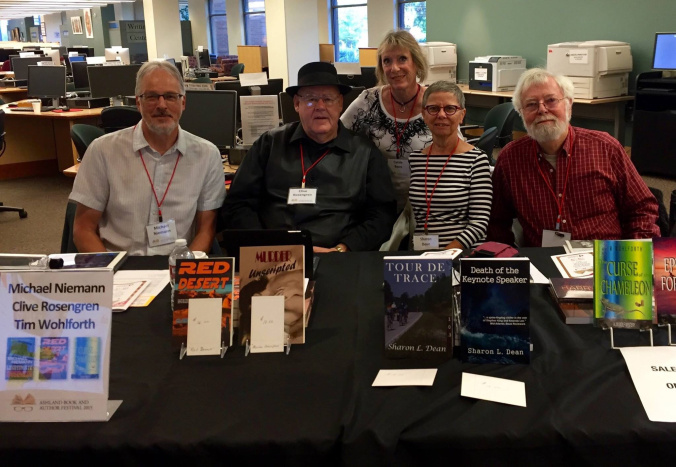 Our Monday Mayhem Writers Group keeps me on the straight-and-narrow, at least in matters literary! Here we are at the 2015 Ashland Books and Authors Fair. From left, international thriller writer Michael Niemann, Hollywood-P-I author Clive Rosengren, myself, mystery/scholarly writer Sharon L. Dean, and noir/crime writer Tim Wohlforth. Our collaborative mystery novel, "Naked Came the Rogue," created a minor sensation in local literary circles!
Professional affiliations: Western Writers of America; Sisters in Crime; Women Writing the West; Mystery Writers of America.
My free-time pursuits include dancing, hiking, playing games or watching the Seattle Seahawks with my husband, Rich Peterson, attending Bethany Presbyterian Church, visiting with friends, hanging with our Boston Terriers, and riding my American Paint horse, Shiny Good Bar (Brad).
Several years ago I showed the Quarter and Paint horses around the Pacific Northwest. What came of those lovely years were lifelong friends, and state, regional and national awards — including the 2012 American Paint Horse Association's National Honor Roll Championship in Amateur Walk-Trot Horsemanship and Trail, and Reserve National Championship in Amateur Walk-Trot Western Pleasure. Although now retired from showing, I still ride as if I may go to a show next week!