NEW! Download the audiobook of Carole's holiday novella In from the Cold!
Jack Pennington has a heart as big as Oregon's Rogue Valley, where he's delivered agricultural equipment and taken in foster children for years. Stalled in his marriage, dreading retirement, and making his final runs over the pass to Klamath Basin, he sees an old, abandoned horse that won't make it through the coming blizzard. Carly Brown's life with druggie parents changed for the better when she joined Daddy Jack's family, and then had a baby with her fiancé. It crashed again when her partner assaulted her, and the baby had special needs. Now her struggles to make a better life for her and her son also seem doomed to fail. As Christmas draws near, can a despairing old man and struggling young mother find a way through cold prospects to a warmer, brighter future?
---
Carole's book Runaway Moon is the winner of the WILLA 2022 Literary Award for Young Adult Fiction/Nonfiction from the Women Writing the West international organization!
The WILLA Literary Awards, named in honor of Pulitzer Prize winning novelist Willa Cather, recognize the best in literature, featuring women's or girls' stories set in the North American West that are published each year.
Read more about this important book here.
---
Martha Moses Kane—a former rodeo Queen and a shirttail relative of Annie Oakley—sees being an 80-year-old widow as no obstacle but a banquet. By staying fit, loving pets, baking pies for a cafe and her daughter's Bed, Barn & Breakfast, she blows a raspberry at old age.
But she's bored. She wants more. Color. Excitement. Maybe a man. When her daughter dragoons her into headlining a Wild West show like her famous 19th-Century sharpshooter cousin, she reluctantly agrees. But practicing is a blast. Especially with her movie-star-handsome older neighbor, Woody Woodhouse. And the new costume fires her up. Her star will rise again.
There's only one hitch: Woody shot a trespasser on his hemp grow, is rumored to poach elk and deer all over the neighborhood—endangering Martha, her family and resort guests, with her best friend coming to visit. Can Martha realize her desire to live larger, be a role model and stop the poaching? Or will she crash and burn?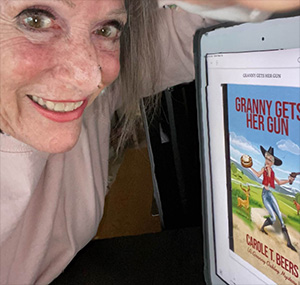 Welcome to the deliciously daring and often dangerous world of "Granny Oakley," who thinks life begins AGAIN at 80. A country girl with big-city savvy, she wasn't satisfied with cameo roles in the five Pepper Kane Mysteries. Now she squeezes the day in book(s) of her own.

Praise for Carole T. Beers
"This is an author who needs to be recognized for her versatility, wit and skill."
—Anne Schroeder, former president, Women Writing the West
"A fast-paced, witty, engaging mystery… the real fun is the characters and the setting. Saddle Tramps does a nice job of explaining the world of horse shows and evoking scenic southern Oregon…"
—William Dietrich, Pulitzer Prize winner and New York Times best-selling author
"Carole Beers taps into her long experience as a horsewoman for Saddle Tramps, a spirited tale."
—Adam Woog, Seattle Times
"If you've ever been curious about the word of high-stakes horse shows, Saddle Tramps is the book for you. The wisecracking sleuth and owner of the Best Little Horsehouse in Oregon, Pepper Kane, tracks down the killer of the show horse Dark Vader. It's a thoroughly modern western set in Oregon."
—Ed Battistella, Literary Ashland
"I just finished reading it and I loved it. Clever, smart, suspenseful, it's got everything. Pepper is a pistol."
—Cynthia Charat, Joy Luck Book Club
"A page-turning thrill-fest."
—Alahnna Castro, Paint Horse Journal
"Well-written, snappy dialogue draws the reader forward. The action keeps one turning pages."
—Carol Crigger, WWA Spur Award winning-author, on Night Rides