NOW SCHEDULING BOOKSTORE/CLUB DATES for Carole T. Beers to discuss her NEW PEPPER KANE MYSTERY
Our contemporary cowgirl-sleuth faces new dangers and desires in Over the Edge—the second book in the Pepper Kane mystery series. Racing to dodge death while solving crimes from Oregon to Texas, she battles doubt, betrayal and heart-pounding action. Her relationship with her elusive lover also teeters at the edge. Will she emerge victorious, or see her desires and dreams dashed to pieces?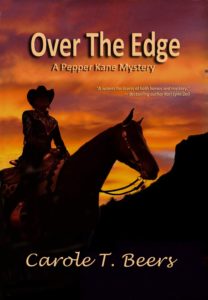 TASTING WINE AND BOOKS: It was fun to meet you all, read from and offer signed books in the "Words and Wine" event September 23, 2017 at Cliff Creek Cellars at the Vineyard in Gold Hil Hill, Oregon. The winery is smack dab in the middle of the Rogue River Valley—the main setting of my Pepper Kane mysteries. The iconic Table Rock Rock, shown on the cover of "Over the Edge," was directly behind us.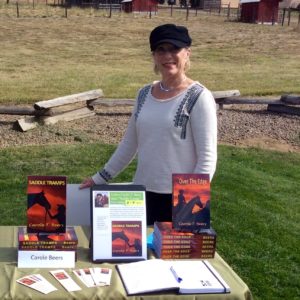 SIGNING/MEET THE AUTHOR at OREGON BOOKS: I'd love to see you, chat about my books and sign some for you and your friends at my Fall Book Signing from 11 a.m. to 2 p.m. Saturday, September 30 at Oregon Books & Games in Grants Pass, Ore. It's a charming store with an incredible staff. You bring yourself, I'll bring books and brownie bites–or gluten-free alternatives. For more on the store, and to order signed copies of either of my Pepper Kany mysteries, go to www.oregonbooks.com
"A NIGHT AT THE MUSEUM" A SUCCESS: Meeting readers, selling books and sharing juicy bits from "Saddle Tramps" made my night, June 17, 2017, at Grants Pass Museum of Art. A shout out to the museum and Authors Innovative Marketing, for hosting and skillfully organizing the event. Got a pretty good laugh sharing Pepper Kane's (my heroine's) remark that her shoulder "hasn't been the same since I fell off Bob." Who's Bob? Read the book!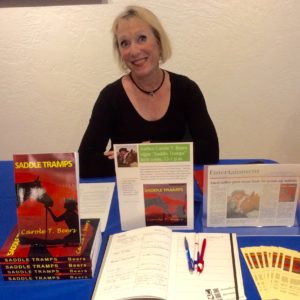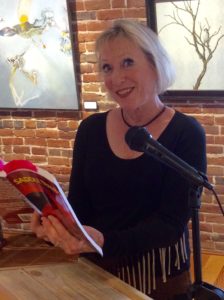 LET'S GET TOGETHER AND TALK BOOKS: I love meeting you bibliophiles and talkng books and writing, so bookclub and bookstore appearances are a special delight. I can do them live, or via Skype or FaceTime. Below you see me chatting about "Saddle Tramps."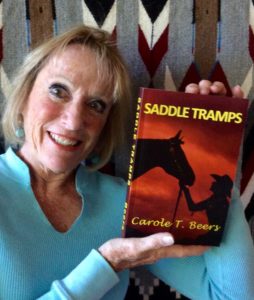 AUTHOR EVENTS AT BARNES & NOBLE:
I can't wait to see you again, at 2 p.m. Saturday, Nov. 4, 2017, at the beautiful Barnes & Noble store in Medford, Ore. Let's check out my books featured in the B&N catalog, discuss writing, and have your books signed! I am especially eager to tell you why I chose Southern Oregon's Rogue Valley for the setting of my Pepper Kane mysteries. Here's a clue: It has to do with something that happened about 10,000 years ago …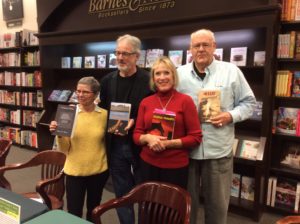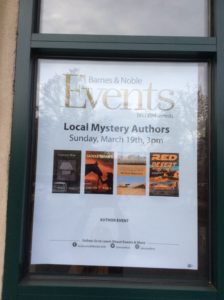 MYSTERY WRITERS READING: The Author Panel featuring Author Dearest and three other members of her Monday Mayhem Writers Group, in March 2017 at Medford (Ore.) Barnes & Noble, was a huge success! We each talked of our backgrounds, read from one of our books, had a lively Q&A, and sold and signed books. Best part? Meeting readers and sharing about how we write, get published traditionally, make friends and influence people—to buy our books!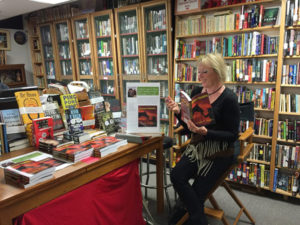 SEATTLE FLASH: I had a blast meeting some of you readers, taking remote orders and signing copies of "Saddle Tramps" in September 2016 at Seattle Mystery Bookshop, 117 Cherry St., downtown Seattle. My book even was named SMB's Bestselling Trade Paperback for a time! Sadly the store closes for good Sept. 30, 2017. Not my fault! A great loss for the book world, and for Seattle, where the shop has enjoyed a "storied" run since 1990. Act fast and order one of two remaining signed copies of "Saddle Tramps" —at 75% off! They ship. Call 206-587-5737. Online, go to seattlemystery.com
ASHLAND FUN: It was a thrill taking part in the Ashland Literary Festival in October 2016 at Southern Oregon University's Hannon Library. I and others in my Monday Mayhem writers group had a table gratifyingly near the entrance, offering our books and live (!) authors. We also presented a panel discussion, "You're Killing me: Why a Writers' Group?" Well-attended and a deep dig into the creative process. You can't write in a vacuum! See my Press Room page for event coverage in the Ashland Daily Tidings. Mark your calendar. I would love to see you at the 2017 Festival, scheduled for Oct. 28!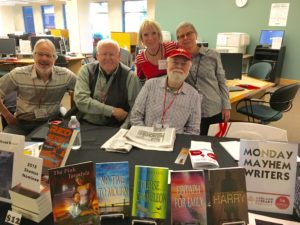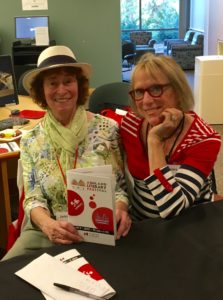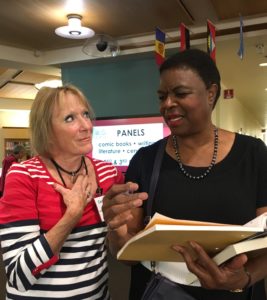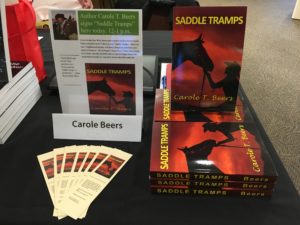 MORE ASHLAND FUN: Save the date! I will read from and sign my books including the new "Over the Edge" at 7 p.m. Thursday, Nov. 2, 2017 at Bloomsbury Books in downtown Ashland, Ore. I had a wonderful Author Event there in October 2016. Thanks to all who came, listened, and asked terrific questions! Signed and dated copies of "Saddle Tramps" are still available at this charming independent bookstore. "Over the Edge" will be there soon! The autumn reading season is right around the corner. Just sayin' …
ON THE HORIZON: I am working with libraries, book clubs and indie stores to feature me in a future Meet the Author event — the recent "Saddle Tramps" and "Over the Edge" readings and signings having been so successful
I always am excited to meet you readers in person, and to hear your comments about my books and stories. You're a huge player in the writing process. Check in here often re: event dates. To hear about upcoming publications and freebie offers, enter your name/email address in the "Subscribe to Carole's Newsletter" form. Be sure to respond to the ".onfirm" email, and add me to your safe senders list!