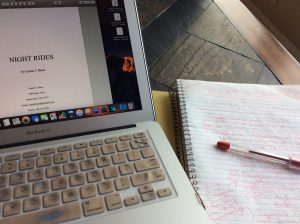 Fresh starts require fresh thinking. And sometimes, no thinking. Let me explain. I've just sent "Night Rides," Pepper Kane Mystery #4, off to the publisher, A-Argus, the small press in North Carolina that printed my three previous books. Quick acceptance, editing, forrmatting and turnaround. Now I have time and ideas on my hands—boy, do I have ideas—before proof copies come back for line editing and final author checks.
What better way to spend this time bonanaza than getting the jump on writing Book #5, where Pepper opens her long dreamed-of guest ranch—really a bed, barn and breakfast that offers a Western ranch experience as well side trips to other Rogue Valley recreational and cultural sites. Problem is, this book already exists, kinda. But in super rough-draft forrm, it representing the first run at the series. Written almost ten years ago!
There actually are three or four different beginnings to this book, originally called "The Hay Hook Murders." The two main characters, best friends Tulip and Pepper, are reversed in look and name. There's a whole different boyfriend. And some elements of the murder weapon seem wrong, not to mention that two whole chapters in the middle are missing. Entirely. So something happened between saving the digital draft, and printing out all 300 pages.
I've started re-reading the version(s) I have, which I can salvage as a kind of detailed outline. There is that. But now I've found so many versions of the beginning, and directions to go in, that I've become a bit confused. OK, a lot confused. Maybe I need to chuck the whole thing and start from square one.
But wait. There are some really good scenes, dialog, and useful people, in that draft. I realize it's an advantage ro have options, to have a bunch of set characters with their own agendas, some already roughed-in scenes, and a general idea what's going to happen. There's gold in that there manuscript, albeit covered in grit and sitting at the bottom of the river. Time to pan for grains and nuggets, maybe even get out the old suction dredge.
I'm writing new. Just setting out, setting up camp, keeping to me vision for the book, but letting my subconscious that already knows the important bits, bring me along. This is the fresh-thinking and no-thinking part. Fresh, in terms of new wording and scene-setting. But completely new in terms of how and where the story goes. In terms of what I discover as I write forward into new yet oddly familiar territory.
That makes me excited. That makes this book #5 seem like an entirely new adventure. And if it feels that way to me, think how much more so it will feel that way to a reader. Tally ho, I say. Onward, the wagons. Northwest discoveries await.