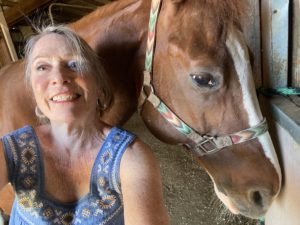 Does an author's mashing genre and shifting voice in new books turn off readers? Cause whiplash?Blur the brand? Not if done right. And my horse Brad (pictured) would agree!
Opening my books, readers expect New West Mysteries with Heart. "The Pepper Kane Mysteries," in fact. A little bit country, a little bit rock 'n roll. Cozies with friends, family, and frisky femmes. And horses, of course. Then I hit them with a literary novella, a middle-grades fantasy, and now a slammin' good Women's Fiction/Thriller: "Runaway Moon."
It's set in the contemporary West, yes. It has a feisty heroine and critters. A fast, sometimes hellbent pace. And a budding enemies-to-almost-lovers romance. But there it differs from much I've written.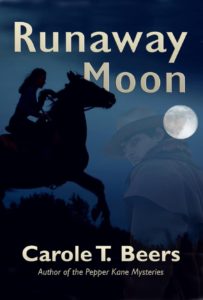 "Runaway Moon"—published this month—surprises some. My writing colleagues call it darker. It's a modern, coming-of-age novel about an abused teen's escape from a modern Oregon ranch to chase writing and training dreams. Shades of "True Grit" X "Wild," resolving into "Heartland." Yes, Cora Cassidy faces wild animals, outlaws, starvation, and a would-be rapist. But she also faces her own demons, and finds allies she didn't know she needed. In the end she solves a mystery (during a heart-in-mouth showdown), and finds a home for her heart. As heroes do in all my books.
See, that last is key. The trick in successfully mashing genres and writing a little outside your brand or usual voice, is this: Stay with a few familiar landmarks (relatable characters, settings and moral compasses). Things your regular readers expect and relate to. THEN you can turn up the dark or light. Use scarier or tamer scenarios. And let your character think, speak and act with younger or older, nastier or sweeter voices than characters in your other work do.
All my books you love may, on the surface, appear different. Mess with your expectations. But are they really different? Maybe in the kind of character and level of grit. But you know? They all have souls to root for, intriguing modern mysteries to solve, and tons of action. Not to mention, heart! Always. That's what glues us to a page or a whole book. That, and a flawed but brave hero, fascinating setting and urgent, compelling quest.
I trust my wonderful readers to get that. And that they will love this new book—a true New West Mystery with Heart.