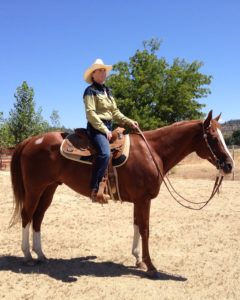 I mean no disrespect to the revered American Indian warrior. But my sweet sorrel Paint horse, Brad, should be re-christened Crazy Horse. That 's because my boy, after two years of behaving (mostly) calmly in hand or under saddle, inexplicably has taken to obsessive observation of birds, bushes and other scary stuff like garden tractors that MIGHT MOVE UNEXPECTEDLY or MAKE A SURPRISING AND POTENTIALLY DEADLY NOISE!
Just yesterday after I led him from his pen and saddled up, Brad seemed good with life and with me. The outdoor temp was in the 90s with a gentle breeze blowing. Our barn manager, Terry Stringfield, trundled to and fro on his tractor, fluffing the arena footing and then mowing the field grass back of the barn. Normal and calm, right?
I led the saddled Brad to the outdoor arena. Again, he seemed copacetic with everything. I looked forward to a good if short ride, as it was growing late and I planned to work in a visit before dinner to a friend temporarily ensconced in a rehabilitation facility.
Mounting Brad in the arena, I settled into my rough-out work saddle and adjusted the bridle reins. He felt at ease, though with a slightly elevated head. That should have been a clue. We eased into a walk, me riding with legs softly engaged and both hands holding the reins low, in light contact with the bit, on either side of the saddle horn. We'd round the ring each way and then do our training circles, diagonal passes and straight lines at the three gaits, as usual.
Or not. At the far corner Brad jumped as the wind rustled an oak branch. His ears and neck went up and stiff. I made him trot small circles at the point of spook, in each direction. That would alter his behavior and bring his attention back to me. Then the tractor mower clanked over some sticks — ka-blang! He jigged, and tossed his head. More circling. More leveling out. Ahh. Now we're good to go.
A few moments later, jogging down the rail, Brad again acted antsy. He again began looking for every potential threat beyond the arena. So, even more circling, leveling, driving calmly forward. We passed previous "shy-spots" until we could pass without incident. I grew sweaty. Brad grew sweaty. I hoped my friend wouldn't mind industrial-strength horsey smells at her convalescent center!
The Grand Shy — which should be a recognized dressage maneuver — happened OUT OF THE BLUE when we'd been "riding" a half hour. We were trotting nicely along the rail when Brad's haunches suddenly spun left, his front end lifted, and he ran BACKWARD for thirty feet. Heart in mouth, I teetered on the edge of an unplanned dismount.
After regaining control, it was back to work, sweating with the oldies — myself, and Brad — though at age 10 he's really only middle-aged in horse terms. It took another half hour. But we finally executed a reasonably slow and relaxed walk, jog and lope on a loose rein, with forward motion, all the way around the ring, and through the middle. We'd win no prizes. It wasn't pretty. But we got 'er done.
I marvel at how my writing is like this, some days. I sit down all fresh and ready to write forward, mingle with my characters, enjoy the scenery and engage in the action. I am in control, mistress of my literary universe. This work, overall, will be fun. I settle in.
Then some element revolts. A character veers off course, an action scene stops mid-struggle, or a conversation jumps the tracks. That's when I must take a deep seat, steady my hands, and — YES! — breathe, relax. Work through it. No matter how long it takes.
Sometimes you just have to be happy with what little you get, even if it's barely passable. Sometimes you let it go. After all, tomorrow is another day.
Alternately? Go saddle a different horse!