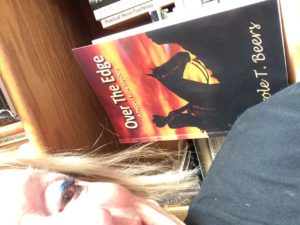 Last week while walking past the skinny window by the front door, I finally saw a flat, familiar-looking little brown package on the porch. Joy, relief and gratitude whooshed in. After eight months of writing my new novel — of living, dreaming, commiserating and rejoicing with its characters through every conceivable crisis and complication, the moment was here. My baby was crowning. The proof book awaited only a final edit and a nod to the publisher to fly out to the world of bestsellerdom. (If only!)
But as I stepped out to fetch the parcel and rip it open, the joy suddenly drained from me. Shock and anxiety rushed in. Holding the book in my hands, now icy and hesitant, I stared at that cover I adored weeks ago. Doubt fingered my spine. The cover of "Over the Edge" looks glossy and eye-catching, I thought. But is it too like that of "Saddle Tramps," a previous book? Will it confuse readers? The back cover looked good. But it but didn't particularly grab me in that emotion-wracked moment. There were typos. Where was the author blurb I'd managed to snag?
My overall reaction at seeing that proof book of "Over the Edge" — the second title in the Pepper Kane mystery series — was akin to what I'd felt years ago encountering a lost lover. Whether lost deliberately or by chance made little difference. The main thing was, that person meant a great deal to me, wove himself into my life, and then went away, taking a piece of my heart.
I never got that piece back. I still miss it — and them, in a way. The attraction remains. But then, so does the pain. Enough so that I'd be stupid to go there again.
The nice thing was – and I took comfort in that — I didn't have to open the proof book, get into heavy editing and light revising, that very moment. It would be there when I was ready. I might have looked at a page or two, the Acknowledgments and Meet the Author. Just to make sure they read all right. They did! I could exhale, at least, about that.
In that moment of hesitation, I had a small epiphany. Hey. I could give the proof book to a writing friend who did line-edits on "Saddle Tramps." A fine author in her own right (write?) and a retired professor, she could have at it first. Maybe by the time she finished, I'd be ready to face it again.
It's been nearly a week now since that proof book hit the porch. Since it practically dared me to immerse myself in it. It's time for me to take a breath, prepare to revisit my pain. Who knows? Maybe I can also rejoice in the good parts, in the happy times. My friend is done with it. She liked how nicely I reworked the book since she read it in-progress. It's changed, she assures me. For the best.
Finally taking possession of it again, safe on the couch with comfort dogs all around, I gingerly opened "Over the Edge." I started reading, notepad in hand, ruler on page, inching steadily down while I started my own proofreading. I settled in, beverage at hand, read some more. Odd, how I became increasingly comfortable. I saw both good and sketchy points with a wiser, more objective eye. Read almost as if this were written by another. One with no claim on me, no matter how tentative. One with no stake.
Hey, I thought. I can do this. I realized that, like lost lovers meeting again, we can each have our separate lives, run into each other occasionally, yet still have a connection. And, surprisingly? I was good with it. AM good. What's even better? It's good.