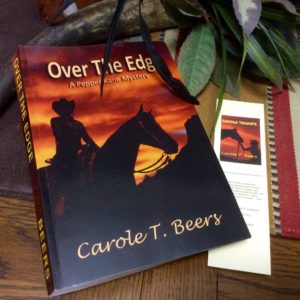 I am "Over the Edge" with excitement today. The second book in my Pepper Kane mystery series, warmed by the hands of early readers, has at last hit online sites and select bookstore shelves. It's about time. The conception was rip-roaring fun, as conceptions often are *blush*. The ten-month gestation, not so much — although there were many high points in the creation that really rocked.
The book began life as a novella. A short, sweet sumpin' designed to bridge the gap between "Saddle Tramps," the first Pepper Kane contemporary-cowgirl mystery, and its sequel flickering on the far horizon. I wrote a draft of this "shortie." Had my amateur sleuth in present tense (both meanings) riding to the edge of Oregon's Table Rock, where she rushed to stop another rider from falling off a cliff. Seemed a good idea at the time. Didn't it? What part of "no" didn't I understand? Something did feel off. And my writers critique group howled with dissatisfaction. Back to the writing board.
Then my mentor Stella Cameron, a NYT and USA Today bestselling author, advised I write a full-length "Saddle Tramps" sequel book IMMEDIATELY. Which in writer's lingo means six to eight months after the first. At most, a year. Or readers will forget you, she said, and move on. Stella writes her brilliant English village mysteries in six months! Many bestselling authors write that fast.
Thus began the book that became the "Over the Edge" you see today. Incorporating parts of the rough novella, I crafted a more complicated plot with a larger, more diverse cast of characters, and then hauled them all off to Texas for a world-championship horse show.
Of course the book took WAY longer than I thought to write, revise and pull together. And buckets more blood, sweat and tears. For me AND my editor. Don't they always? Even the cover gave me a few fits.
But now it's out. At last. I can breathe. And best of all? I really love this little bugger. If you can call 340 pages "little." If you call weighing over a pound, "Little." I am proud as punch. Can punch be proud?
Here. Have a cigar. Oh, and a pretty balloon. Many of you cheered and supported me in creating this novel. So thank you for that. Here. Hold the baby. Give it a good long look. I hope you love it as much as I do.
Then, when done, will you kindly leave a review on Amazon and Goodreads? Thanks, everyone. We're all in this together — a family for the books!