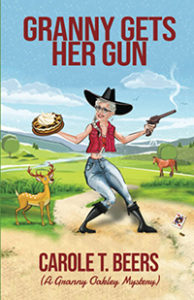 Many of us crave certainty, continuity with "benefits." Books and TV/film series can provide this. Notably in anxious times. But really in every time, at any age. Did you read all the Nancy Drew books? The Jack Reachers? Stephanie Plums? Doubtless for pleasure or needed distraction.
I love to fall into a good series, as writer OR reader. I write standalones, of course. But I'm probably best known for five (so far) Pepper Kane Mysteries. And now a spinoff, "Granny Gets Her Gun"—a cozy featuring my amateur sleuth's aged mother, Martha Mosey Kane. Other series characters–including animals–as well.
How to create or find an irresistible bookTV series? One to write or to breathlessly read all the way through? First, I crave a worthwhile main character or group to "hang" with through the hours and weeks. As with Annie Seaton's Aussie books, or Robyn Carr's addictive "Virgin River" books that drag you safely but engagingly through thick and thin. Romance, women's issues, action, crime.
I also want a believable (read: flawed) leading man, woman or other to laugh and cry with, elbow knowingly, solve mysteries compelling or silly with, take a bite out of evil or uncertainty with. Someone I might want to know in "real" life. who has a welcoming/intriguing voice.
And mainly I meed a main character or group that is INTERESTING. I mean interesting through their job, family role or mission in each book. And not just someone who turns out to be an easy trope, prop or stereotype. Although if you twist a trope on its ear I might bite!
I need to know their interestingness in the first chapter. These attributes can be hinted at in passing, or stated outright with proper authority and confidence—emerging or otherwise. If characters are downtrodden, they must have those elusive qualities I call gumption and "try." Heart. This makes me want to "help" them or empathize with them by riding along, shadowing. Staying with them. Feeling them.
My amateur sleuth Pepper Kane—in my five-book series with her name—is a fresh go-getter modern horsewoman of a certain age. She has a family she loves, a background in reporting, a yen for a good romantic relationship. Yet her Pop develops dementia, her lover won't commit, and her grown kids live some distance away and are not always sympathetic to her wants and needs. Sound familiar? Anyone you know?
Plus I need to TRUST her. Believe in her quest or problems, know she will stay on course, not flip on me without good reason. At her core she must be strong. Steady.
Almost as important as cool characters and predicaments are settings. Whether city, beach or desert, settings should be interesting, too. They can help determine and even drive action. Provide a soothing or stirring backdrop. Mirror a character's thoughts or mission.
But settings abso must have their own aura, good and bad qualities, personality!
In series books–as we explore questions great and small, people watch, make our way through or settle into the landscapes–let's enjoy the author's skill (our skill) at weaving all these elements together. Keeping the fabric. Being clear, compelling and true.
Even if in the "real" world, it's technically UN-true, but lives true in our mind and heart.
Granny Gets Her Gun https://www.amazon.com/dp/B09VG1MBZV/ref=cm_sw_r_cp_tai_K5QVC9KCN28170QP3YHK