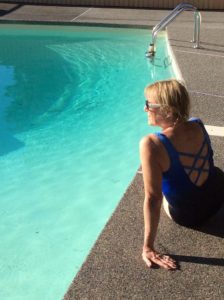 Can authors have it both ways? Create books that earn honors, tick bestseller boxes and align with a strong author brand while laying bare our hidden secrets, shames, fears and dreams? I'm beginning to believe so, thanks to recent nudges from Creator. I touched on inner concerns—or wrote around the edges—in my first books. Used social issues as metaphor, or offered guarded glimpses into my/my heroine's flaws and vulnerabilites. It was my unbiased reporter's way. But now I'm ready to show myself more clearly through characters and story, to be not only brave and positive, but also as sometimes clueless and vulnerable as anyone else.
In her seminar here in Grants Pass last week, literary strategist Anna Weber said that an author's writing her own deep, scary but authentic truths in her book speaks to READERS' deepest needs, desires and truths. Which we must do to be successful. This is a big reason why we read book, crave story. Weber's seminar resonated powerfully with me. That's one reason I want to read. That, and to be entertained.
The next day came my author friend Susan Clayton-Goldner's newsletter, "Writing the Life." She said that sharing in book form ("Missing Pieces," the achingly dark tale of her late father and her relationship) not only helped heal her, but also to reveal her strength. All of which we as readers also look for. Don't we all want to be healed and strengthened? Susan says showing one's weakness without fear, not hiding behind words or an image, is the real strength.
For example, I might write deeper into my longtime fear of not being chosen (for a team, friendship, prize) despite hard work and commitment. Or, my often-fulfilled situation of forming a group, or hosting a party for friends and loved ones, and then having the committed guests cancel. Fifteen minutes before the event. When the standing rib roast is coming out of the oven. Knowing how such betrayal crushes me, I try to respond to invites and requests in a timely, truthful way, and fulfill commitments even if "something came up."
God! The pain of promised success–whether in friendship, finance or romance–that is inexplicably yanked away. I'm sure the lesson here is to stay loose, and flexible. But it's still hard.
I've occasionally faced having to eat a beautiful dinner alone or semi alone. I accept that I'll never understand the whys. But at such times I've somehow pulled myself together and asked someone else to come on the spur-of-the-moment, and had them come! I've also driven the meal to people who haven't eaten yet, and will appreciate having dinner delivered. And had a blast!
To be successful, authors must come up with relatable characters, engaging plots, and fascinating twists and turns. We want to immerse readers in story and action. To do so, it turns out, we must also show ourselves/our characters as realistic, relatable, engaging, with fascinating twists, turns—including darkness and vulnerabilities. Maybe even celebrating same.
We don't have to go overboard. Don't have to devolve into melodrama. Who wants to come to that party? But we as authors can think more about our book characters, show their fears and weaknesses and, by proxy, some of our own. Which goes a long way forward making them "true."As a matter of fact, I have begun to do exactly this in "Shadow on the River," my current Work in Progress. It is Pepper Kane Mystery #5. It may be my strongest yet.