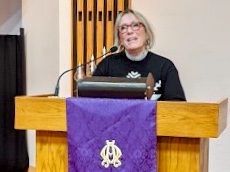 (Please enjoy my guest sermon of Dec. 1 at Bethany Presbyterian Church, Grants Pass, Ore.):
"Hope." Like "home," it's a positive idea and word, universal in feeling, emotionally loaded. We hope things turn out. We hope for better health, weather, circumstances. After disappointment we adjust our hopes. We aspire to survive in soul if not body, delivered from evil, God willing. We hope, in winter, for return of the light. We're almost born knowing its meaning. Almost as if it were transferred in utero from mother to child.
"If there's life, there's hope." Who doesn't have at least a glimmer of hope? Who doesn't wish it for others? Hope is praised in the Bible, notably First Corinthians, 13, and many other places.*
But what is "hope?" I've learned in my 75 years it's a combination of yearning for life, and faith.
Hope, with a generous helping of faith, is what launched my triple-great grandparents on both sides on arduous cross-America journeys to the Northwest 140 years ago. In wagons and on foot they came, from the Midwest and South, before cars or railroads, leaving behind almost everything to find more productive ranchlands and business opportunities. Hardy, brave and steeped in Protestant tradition, some preachers themselves, they bore the blood and wanderlust of Europeans who emigrated to North America generations earlier.
As a child, in the Eastern Washington coulee country, I heard stories told by the old ones. How one relative walked BAREFOOT across America when his shoes failed. Another was born in a dugout under a hill. Still others trembled upon reaching Walla Walla, scene of the Whitman massacre by Native people. But I also heard of their founding ranches, schools, churches. Surviving epidemics. Helping build small towns.
Talk about perseverance, faith and HOPE! Most of your ancestors also had hope big time. Or you might not be here. To think I whimper at freezing fog, a potholed road, or a shortage of staples in the pantry. Computer troubles. Think what our ancestors went through chasing dreams. What sacrifices people made in wars when metal, foods and fuel were rationed.
My own hope shows in how I set aside fear of failure to embrace adventure and new things. I love brave people, look up to them—especially women who broke ground and STOOD their ground. Like my female ancestors who crossed the country, became nurses or teachers, plopped themselves down on gun trunks to stop their men from going out to settle some senseless score. That's why I learned to ride, shoot, fly airplanes, embrace strangers. And, yes, write stories for The Seattle Times, and then Pepper Kane mystery novels full of what? HOPE. I call my books "New West Mysteries with Heart." They fulfill my lifelong HOPE of being an author. I should call them, "New West Mysteries with Hope."
Why did people back when, and why do some of us now who write books, build businesses or sustain churches, put ourselves through tough journeys, and chances to be knocked down? Because they had, and we have…HOPE! Hope for a better life. Better future. Better now.
We were supposed to tell a personal story, show how it illustrates what hope or faith means to us. But I had to start with the earliest examples of hope that affecting my life now. Pioneers in any time inspire me to toughen up, keep going, work the dream. Because I find work, prayer and hope get you through. Ease your heart, stand you up straight, let you to look on others with compassion, and ultimately succeed. May hope be with you!
*Romans 5:1-5 Therefore, since we have been justified through faith, we have peace with God through our Lord Jesus Christ, through whom we have gained access by faith into this grace in which we now stand. And we boast in the hope of the glory of God. Not only so, but we also glory in our sufferings, because we know that suffering produces perseverance; perseverance, character; and character, hope. And hope does not put us to shame, because God's love has been poured out into our hearts through the Holy Spirit, who has been given to us.